Modern-day enterprises are constantly seeking unique ways to stand out in the competition and dominate the marketplace. In a world of cut-throat competition among businesses, API (Application Programming Interface) integration offers remarkable opportunities for enterprises to unleash their maximum potential and accomplish their business goals. API integration is a must in today's technology-oriented world, especially for companies that use different cloud-based apps. It makes organizations more flexible, simplifies design and administration, and offers remarkable opportunities for innovations. Sounds interesting, right? Here is an article with the nitty-gritty of API integration and its advantages for businesses.
All About API Integration
API has become a necessity of modern enterprises. It refers to the online programming interface of an enterprise that allows various applications to interact with the backend systems. API is revolutionizing the business models as well as the ways enterprises operate. It is the best technology not only to streamline but also to simplify your work. Continue reading the article to know everything about API integration.
Application Programming Interface or API refers to an interface that allows connectivity and communication between different software applications. It is the seamless connectivity that facilitates enterprises to automate their business process and improve the implanting and sharing of data between different systems and applications.
According to a study, around 83% of integration professionals consider API integration an essential part of their business strategy driven by the digital transformation and adoption of cloud applications. This data reflects that APIs have become crucial for businesses to attain a competitive advantage
An API develops a channel for an enterprise to seamlessly sell its products and services online. It bolsters connectivity and improves functionality. To succinctly describe, APIs ensure a smooth connection between different applications. For instance, an app like Swiggy is enabled by API to show the locations of various restaurants on Google Maps. In this way, API integration enhances the end-user experience.
Advantages of API Integration for Businesses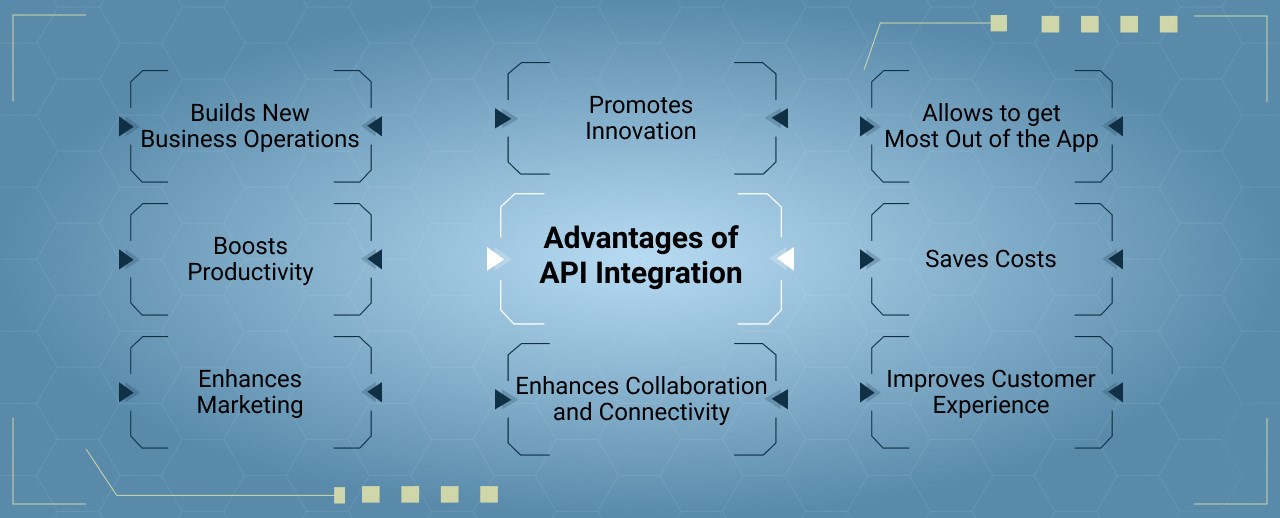 For businesses, API integrations allow automation of different tasks by integrating their databases and programs with contemporary industry applications. It helps them to create technically advanced solutions that provide a better customer experience. Additionally, API facilitates businesses to streamline their business operations. That's not it. Below mentioned are some of the primary advantages of API integration for businesses.
With the rising demands of modern software, businesses are seeking smart ways of creating new products. If the developers spend their valuable time developing new products or services from scratch when already similar API solutions are available, it can impact the productivity of your enterprise.
APIs offer splendid and smart mechanisms for better and faster development. With the right APIs, developers can use the existing solutions rather than creating new ones from scratch.
For instance, Google Cloud Natural Language API is one of the best solutions to derive useful insights and information from unstructured data using Google's machine learning technologies. It can help you to carry out entity recognition, syntax analysis, get important information regarding events, places, or even people.
You can integrate such a type of API into your applications to save time and improve the overall productivity of your enterprise, which in turn can help you accomplish your business goals quickly.
Enhances Collaboration and Connectivity
Internal APIs can help to enhance internal communications and collaboration. They allow different systems, platforms, and applications to connect with each other, share data, and perform different types of functions.
APIs connect the disconnected software solutions like marketing automation, financial services, and customer relationship management with each other and interact with ease. For instance, logistics companies use APIs to expedite communication and streamline their operations by real-time automation.
Better collaboration and connectivity as a result of API integration allow the creation of interoperable components. It helps enterprises to streamline operations and deliver their desired functionalities in a hassle-free manner.
The cost of developing a software or application depends on a wide range of factors like technology use, the expertise of developers, and the complexity included in the project. These all factors collectively lead to an increase in the overall cost of developing an application.
However, with APIs, developers can get most of the functionalities, and they do not need to create new applications. It can not only help in saving costs but also resources.
For instance, according to an article published by McKinsey, many banks in China have started combining with fintech firms to share technology. It not only allows them to save cost but also helps them offer a personalized experience to their customers.
API integration helps to lay the foundation for modernization efforts, and it holds power to change the speed of innovation. Enterprises that do not introduce new features in their products or do not consistently bring new products in the market lack to meet the evolving technological trends and customer's expectations.
APIs are the best to drive innovation. By using APIs, businesses can include various technologies in their products and adapt to customer requirements quickly. One of the most common examples is weather snippets. You can find good weather snippets on all platforms like iPhone, Google search, and even on your smart home device.
The enterprises like Google or Apple are not in the business of weather data, so they source the latest weather information from third parties using API in an essay manner. It allows them to offer the amazing weather snippet feature on their platforms. In this way, with API, businesses can flawlessly extract information from reliable data sources and boost their system's capabilities.
Using API can help enterprises to supercharge their marketing strategies. APIs allow organizations to boost their reach, penetrate new market opportunities, and remarkably attract the target audience that otherwise could not have been possible.
Enterprises do not hold unlimited resources. Therefore, they are exploring the world of APIs to boost their market reach. For instance, Twitter uses Twitter Bots to execute different actions like automatically follow, tweet, and send messages on the basis of given instructions. Netflix Bot, powered by Twitter API, tweets whenever a new web series or movie is released on Netflix.
This way, it provides interesting features to Twitter that allow it to attract new users and keep the old ones entertained and updated.
Improves Customer Experience
There is no doubt that API enhances the customer experience. By using APIs, businesses can enhance their products and services by offering a more personalized experience to the customers.
For instance, many popular online shopping brands use APIs to analyze a buyer's shopping journey and preferences to recommend them the next possible action. It helps to enhance customer experience and get more sales.
In this way, APIs allow businesses to create splendid solutions that meet customer expectations and fulfill their needs. Improved customer experiences are not only beneficial for a good relationship with customers but also help to build a strong customer base.
Builds New Business Opportunities
Another amazing advantage of API is that it allows enterprises to create new business opportunities. By using APIs, you can unravel the value of your digital resources and find out new ways of expanding the growth of your business.
Just like the internet moved businesses from brick-and-mortar stores to online presence, APIs allow modern companies to transform their valuable digital assets into business opportunities.
Some companies like Telestax and Twilio have built their businesses by offering a gamut of APIs to the consumers for different uses and needs. By exposing the functionalities using API, you can expand your business and build new revenue opportunities.
Allows to Get the Most Out of App
Integrating APIs into your business tools can help you make the operations hassle-free and smooth. The API integration can provide remarkable benefits to different departments in enterprises.
For instance, ERP systems can monitor the order information and create invoices, which helps the finance teams to manage the vendors adequately. Marketing automation tools can access the product usage data of clients, which enables marketers to cross-sell successfully.
Technology has made remarkable progress in the past few decades, and it shows no signs of slowing down. API is one of the popular technology trends poised to change the IT landscape of enterprises in the future.
With API integration, enterprises can not only take their businesses to the next level but can also boost their revenue opportunities. APIs offer a wide range of benefits to businesses, which can help enterprises to advance their growth and stand out in the competition.
Leverage the Power of API with AppManufact
The benefits of APIs for businesses are vast. These powerful mechanisms allow businesses to get a good return on their investments. In the modern-day digitized world, API has become a crucial catalyst that boosts the growth of most modern enterprises.
However, if you do not take the APIs seriously, they may not be utilized to their maximum extent. At AppManufact, we are always ready to help you unleash the full potential of APIs and get remarkable business success. We have a team of professional expert in API integration and the development of cutting-edge API solutions. Empower your business and leverage the power of API with AppManufact.