In today's marketing-oriented era, branding has become a common word. It has gained remarkable popularity and has become an inevitable part of business models. However, it is still one of those marketing practices and concepts that can become confusing, even for people who are masters in marketing. If you are confused about what branding is and what its benefits are, you are at the right place. Here is an article with everything you need to know about branding and its importance in the contemporary competitive era.
In the digital age, branding is one of the most successful and impactful ways of product marketing. It not only provides a name or logo to a product but also helps to distinguish a product from the others in the market. In addition to this, branding helps to create perceptions that consumers have of a particular product or a service.
That's not it. Branding plays a crucial role in the overall revenue generation of an enterprise. According to an article published by Forbes, consistent presentation of a brand across all the crucial platforms can help to boost revenue by 23%. Sounds interesting, right? Let's dive into the nitty-gritty of branding.
Branding refers to the effective process of promoting a company, its products, and services using distinctive designs and marketing communications. It includes creating an influential, positive image of a business, its products, and services among customers by using effective elements like logo, mission statement, design, and advertising.
If you think branding is all about advertising or the products, you are wrong. It is much more. Branding is actually the experience you provide your customers. It is the splendid culture you try to adhere to and is the philosophy you embrace for your business.
Branding is a vast concept; therefore, presenting a single-line branding definition can be difficult. However, the main objective of branding is to attract customers and create a strong network of loyal customers and stakeholders. Branding makes your business unique.
Important Components of Branding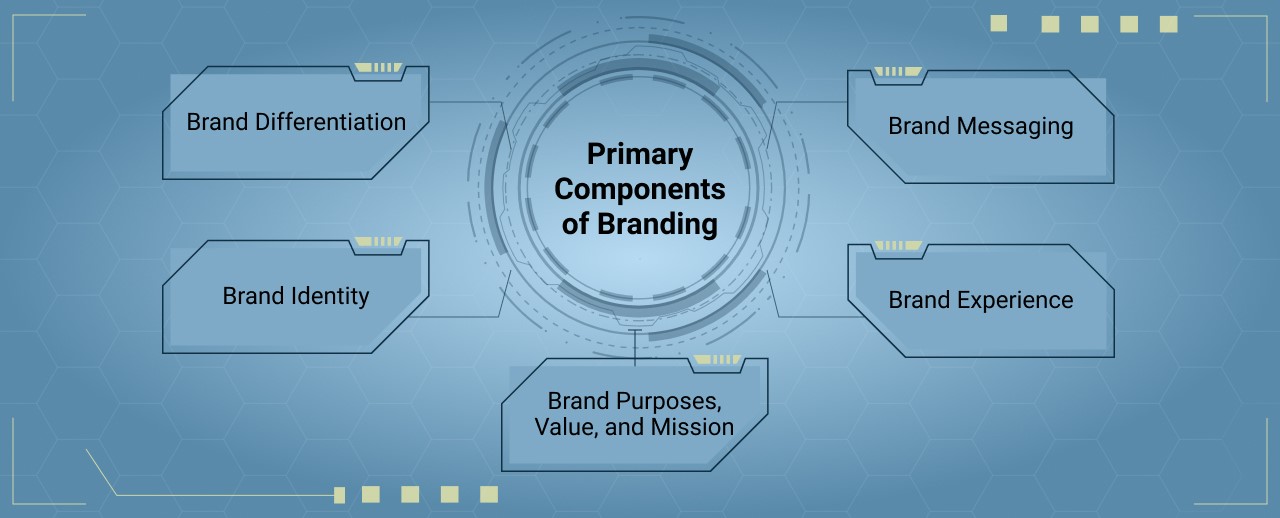 Make no mistake about it: good branding matters a lot. It helps to build customer loyalty and turn businesses into popular brands and names. Branding runs deep and includes various crucial elements in order for a brand to gain remarkable popularity and recognition. Here are some of the important elements of branding that play an effective role in creating a brand from scratch.
Brand identity refers to all the visible elements that a company creates to present its accurate image to its customers. It includes the elements like design, logo, and color that help to distinguish the brand from others.
To succinctly describe, a brand identity is every visible element that comes to your mind when you think of a brand. Therefore, brand identity needs to be unique as it is the most common thing that your customers remember, and it allows your brand to stand out in the competition.
The brand experience refers to the way your potential customers interact or connect with your brand, products, and services. Moreover, it also comprises how the customers connect with your team and your brand on the different connection points. Everything from when a customer connects with you on social media to when they buy your products or services is covered in brand experience.
Brand Purpose, Values, and Mission
Though brand mission, value, and purpose are all different things, they should work collectively to convey a larger story to your target audience about what your brand does and who you are. Your mission is the primary goal you wish to achieve; your values are the benchmark you set for your brand. Finally, your purpose is what efforts you make to satisfy your customers.
In this overcrowded marketplace, you need to stand out, and this is where brand differentiation comes into the picture. It is what makes you different from others. In short, it is your unique selling plan. It includes what different things you have to offer your customers. Make sure to offer unique values and features to make your brand stand out in the competition.
The brand messaging is actually the voice of your brand. It allows you to connect with the customers in a better manner and deliver a good experience. Brand messaging includes the language you use while connecting with your customers, on your social media posts, and on your website. Therefore, ensure consistent brand messaging to engage your customers.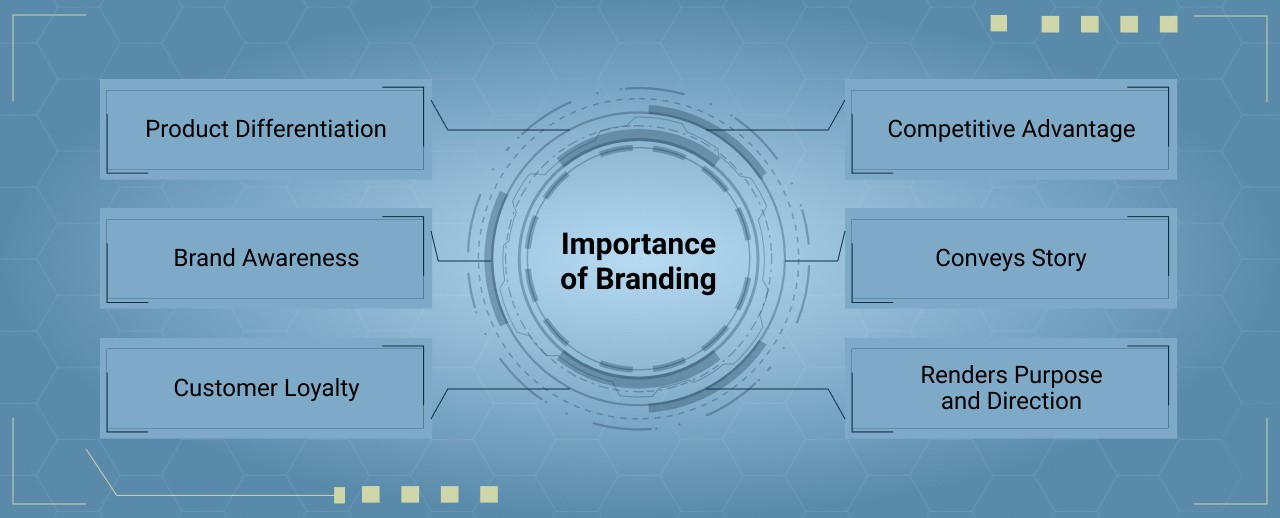 Now that you know what branding is, the next question is, what are the advantages of branding. Why is it important? Branding is the delicate art of shaping a brand. It requires skill, strategy, and creativity to establish a brand and set it apart from the competitors. Most importantly, it gives you a reputation. We have rounded up a list of reasons why branding matters.
The market is crowded with a lot of brands that offer similar products and services to yours. They target the same market and customers, so how to differentiate? Here the branding comes to the picture. It plays a crucial role in differentiating products. Branding measures and initiatives through different tools and campaigns helps a brand to stand out in the market. It provides a distinctive edge of uniqueness to the brands.
Think of Alo Yoga. There are many companies in the market offering activewear, but there is something different about Alo Yoga. They offer studio-to-street clothing lines and use real customer photos as a part of their branding campaign. All these unique features make them stick out in the competition.
Great branding requires intelligence, strategy, and planning. It requires a lot of confidence to tell your story to your target customers, and it helps to boost brand awareness. Consumers in the present-day digitalized era are exposed to a wide range of alternatives and options due to the high usages of digital platforms, leading to cut-throat competition among brands. Good branding can help to elevate brand awareness. It helps to create strong brand recognition.
For instance, Coors Lights used one of the coolest campaigns to enhance its brand recognition. Their Colne Machine campaign asked users to record a video loop of around 30 seconds in which they have to look interested and focused during their video conferences so that they can later sneak away to get a beer.
Genius, right? That's not it. They also created a personalized hashtag #CouldUseABeer and offered a six-pack of beer for a limited time to the customers using this hashtag. This splendid branding strategy remarkably boosted brand awareness and took the business to the next level.
Branding helps to develop a loyal customer base. If your customers adequately indulge in the purchase of your goods or services and have a good experience with the brand, they will surely come back to you.
The right branding allows forming an emotional connection with the customers, which in turn leads to a higher retention rate. When you establish your business as a brand, you can connect with your target customers and the general public in a better manner.
Think of Starbucks. They personalize their services at their shops by calling their customers using their first name. Moreover, they serve coffee in cups with the customer's name, which allows them to provide a unique experience to the customers. This amazing branding tactic helps them to form an emotional connection with the customers, which in turn results in customer loyalty.
As mentioned earlier, the brands have to face fierce competition in the market not only from the existing players but also from the new entrants. In such a competitive world, branding helps the brands to carve a distinctive identity in the market as well as in their customer's minds through excellent marketing and promotional campaigns.
Check out Nike's ad starring the last-place marathon finisher. Nike is already a well-established brand in the market. By including the last marathon finisher in their advertisement in an inspirational way, they became a familiar name all over again. It not only revitalized their brand identity but also led them to gain a competitive advantage in the market.
Conveys Your Story Instantly
The most important aspect of branding is telling your customer who you are. Branding allows you to tell your story to your consumers and let them know your vision. It helps your target customers to know you better and form a connection with your brand.
Think of Puma's logo. Puma is a popular sportswear brand that includes an image of a leaping panther, which reflects activeness. A panther remains active during both day and night. It perfectly shows the attitude of activeness which the brand intends to convey.
Renders Purpose and Direction
No matter what your brand is, it should have clear goals. Right branding is much more than just font, colors, and content; it gives great purpose and direction to your brand. Additionally, it allows you to connect your purpose and values to your target audience. Your values and beliefs play a crucial role in forming a purpose and communicating it to others.
For instance, the tagline of Nestle is 'Good Food, Good Life.' Nestle is one of the largest food and beverage companies. Their tagline clearly conveys their purpose of using the power of good food to enhance life quality for everyone.
Let's not forget, your brand is your business, and you deserve better outcomes. One of the essential parts of branding is to drive the significant results that you aim for. Great branding can help you to generate growth and create a strong customer base.
Take the example of Dove. In 2004, the company began the Campaign for Real Beauty, which transformed it from just a soap company to a company with great vision. They introduced a new mission statement stating, 'Beauty should be a source of confidence and not anxiety.'
Dove has constantly been aligning its branding efforts with its beautiful mission statement, and it has helped the brand to accomplish remarkable success and growth. That's not it. Dove has changed the perspective of beauty in the advertising industry with its branding messages.
We have said it before and will say it again: good branding matters a lot. Therefore, be more creative and take your time to build a strong brand identity. Building a strong and well-renowned brand is an ongoing process that requires consistency, a lot of effort, and patience. To make sure your brand reaches the audience and build a loyal customer base, use the right branding components.
Branding is not a one-time thing; it is a constant and continuous process to be present in the market as well as in the mind of the customers. When properly done, branding can help you lay a strong foundation for your business.
Introduce Your Brand to the World with AppManufact
The way branding influences consumer behavior is witnessable by all. So, it is no surprise that branding is one of the most valuable assets of a company. At AppManufact, our veteran professionals work collectively to craft an effective branding strategy for your business. We use creativity, innovation, and analytics to make strong brands with vision. Introduce your brand to the world with us and take your business to the next level.